Other events in the field of emerging substances
This page will be regularly updated with information and useful links to other relevant conferences and workshops in the field of emerging environmental pollutants.
2022
---
22–26 May 2022, Durham, N.C. USA
Nontarget Analysis for Environmental Assessment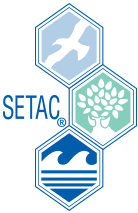 The goal of this meeting is to move nontarget screening and its application forward in the context of environmental assessment by involving stakeholders from all sectors.
The meeting will have a mixed format with keynote lectures, oral and poster presentations, and breakout discussion and demonstration groups. The meeting will intensely cover nontarget screening approaches, from the analytical technology, to application in real-field studies and implementation in risk assessment.
The meeting will include three main topics:
Frontiers in nontarget screening: Instrumentation, data evaluation and application to monitoring the water environment
Identifying transformation products and metabolites formed in biological and technical systems
Tools to prioritize identification: Statistics, exposure indices, toxicity, fate modeling
For further information https://nta.setac.org/
---